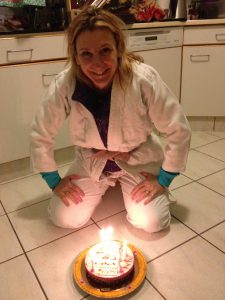 "You can't have your cake and eat it."
I heard this a lot growing up.
For Brigitte, who is Swiss, and probably for other non-native speakers of the language of Shakespeare, this is actually a very confusing statement.
"I can't understand it at all," Brigitte has said on many occasions.
Which is understandable.
Because we English often use the verb "have" to mean "eat," as in "have breakfast" or "have a sandwich."
So for her, it's like saying, " You can't eat your cake and eat it."
Which doesn't make much sense.
If we choose another verb, such as "keep" then the idea behind this little gem of popular wisdom becomes clearer.
Now we have, "You can't keep your cake and eat it."
But it's still nonsense.
After all, what are memories but things we have consumed that we keep?
* * * * *
On a visit to England last year, I had lunch with a friend and his mother, who is now well into her eighties.
"You can't have everything," she said.
And then she said it again.
And throughout the conversation, it came back again and again, like a kind of limiting mantra.
Eventually, I couldn't let it pass.
"You can't have everything," she said.
"I don't see why not," I replied.
And later, when she said it again, I said, "I don't see why not."
It became quite funny.
We all chuckled.
* * * * *
These are the kind of limiting beliefs which make up our education and sometimes our lives.
But we can de-mask them.
Of course, if we say, "You can't have everything," or "You can't have your cake and eat it," enough, then it becomes a kind of truth for us and it's very unlikely that we will have everything.
It's important to keep the door open.
It might be difficult to "have everything," which of course means different things to different people anyway, but it's not impossible.
There is no objective reason why we shouldn't have everything.
So what happens if we start to challenge all those unhelpful comments which surround and inhabit us.
"It's normal that you do less as you get older," a favourite of my mother's.
Is it?
"You'll never be a star."
Why not?
"I'll never be rich."
Why not?
And so on.
I think we can push back the barriers at any age and our world will be brighter for it.
And if our world is brighter, then it will be brighter also for those around us.
May your life never become an endurance test!
Love
Richard