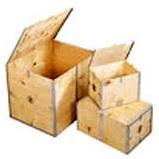 When I was a kid, I went on holiday with my family once and we stayed at a place in the West Country, UK.
The owner told us a story about a woman he knew who'd been a missionary in China all her life and had just come back to England. He was bemoaning the fact that all her possessions for shipment had fitted into a tea chest. He thought that it was incredibly sad that she had worked all her life with so little to show for it and my parents agreed.
'Just one tea chest of things, after a lifetime of work,' he kept saying.
I was perhaps about fourteen at the time, but this story has stuck in my mind over the years, probably because I wasn't sure whether I agreed with the others about this even at the time.
There was something about the discipline involved in not collecting stuff or in making the choice to throw a lot of it away that rather impressed me.
I've got to say that I'm a work in progress where hoarding is concerned. My wife would certainly say that I'm a hoarder.
But I think I know the limitations of possessions pretty well.
One of my favourite self-quotes is, 'More is not necessarily better,' and that applies to everything but especially to music, I've found.
It's amazing how the desire to embellish and vary can kill the emotion.
In architecture too.
But there are some possessions I'd rather not be without and maybe one should start from that end and work backwards.
My Petrof, for example, even if I don't play it nearly enough at the moment.
What possessions would you rather not be without?
All good wishes for the Christmas season and for 2019.
May your life never become an endurance test….
Love
Richard
P.S.  I must give credit where due.  I was reminded of this story while reading a short post by Derek Sivers entitled Subtract.  Well worth the read!