On a trip to Porto in the North of Portugal last month, I made the mistake of trying to go for a swim in the sea.
The Atlantic waves hit the shore there with terrific force. After all, there's nothing between there and the East coast of America to stop them.
Now I'm a strong swimmer and trips to the seaside never go by without my swimming in the sea. But in this case, I must admit I hesitated.
I stood and watched the waves for some time on this particular afternoon. The sea seemed calmer than it had for a couple of days.
I chose my moment and launched myself forward.
I never got to swim.
The waves threw me about a bit and knocked me down unceremoniously.
It felt like a betrayal considering my privileged relationship with water.
I crawled out as best I could, but not before the sea had swallowed my left shoe.
An outrage!
Now this was my favourite pair of shoes.
I can walk, run, swim, do virtually anything in my Vivo Barefoot Ultras
and they're as light as anything. I think it's great to be able to wash them easily too.
I wear them all the time.
I can't tell you how disappointed I was to lose one.
A man who was walking his dog on the beach looked rather concerned as I emerged from the water. He talked to me in rapid Portuguese, which I don't speak, and he didn't speak any English.
I managed to communicate that I had lost a shoe.
And he managed to communicate, as our attempts at conversation continued, with some additional drawing in the sand thrown in, that I should return between 9 and 10 the following morning because that was when the waves would be at their strongest and that I should look on the shore to the north of the point where I had lost it.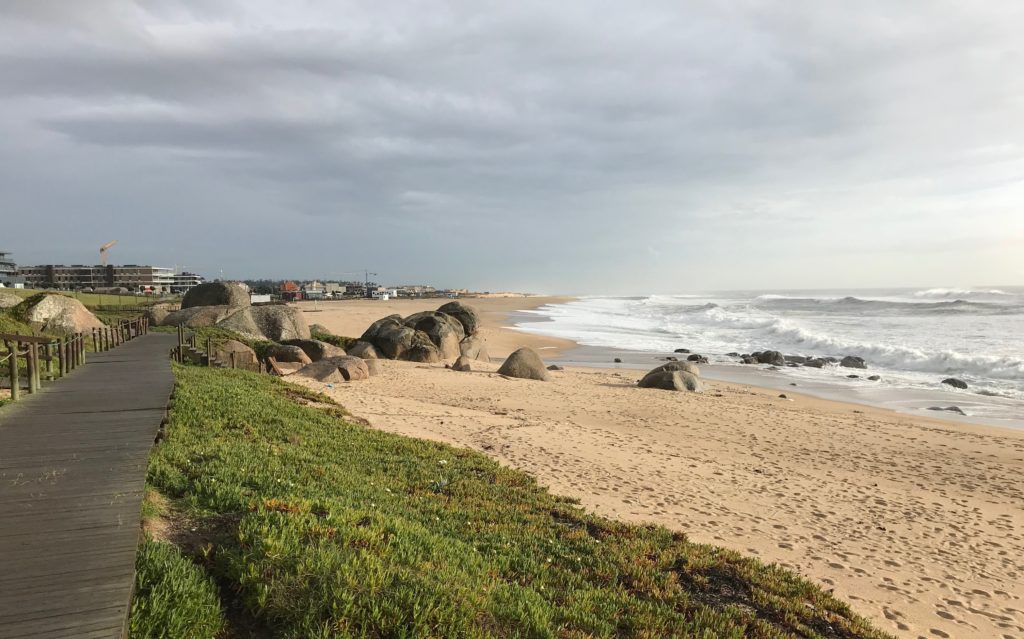 So we did.
I can't say that we really believed we would find it. The chances seemed very slim.
It was raining as we progressed along the beach and my wife and I walked for a while, inspecting jetsam brought in by the sea.
But suddenly, at a distance and in front of a group of rocks, I spied my shoe.
It was sitting proudly upright on the sand as if held out on the outstretched palm of the ocean.
There wasn't even any sand in it.
I was overjoyed as you can imagine. It really made my day to be reunited with my shoe.
A lesson in humility and hope.
Have a great Ascension weekend.
Love
Richard
P.S. I saw the man later on the same day, so I was able to thank him properly for his help.
P.P.S. Associate Links!